This is our new webpage as our former domain was compromised in a bankruptcy.
Register online using the events tab on our website, e-mail Laurie (
email hidden; JavaScript is required

), or text to 217-522-7099 to request that a registration form be e-mailed to you. $10 for students, $35 for all others, includes breakfast, lunch and materials
2014 Illinois Conference of Churches Annual Assembly Has Christ Been Divided? Emerging New Ecumenism
Friday, Sept. 26 8:30 a.m. – 3:30 p.m.
Emmual Memorial Episcopal Church
102 N. State St, Champaign, IL 61820
If you are no longer the delegate or if there are any changes in your contact information please let us know! Thanks.
Bishop Sally Dyck will deliver the message during morning worship. Bishop Sally Dyck, Resident Bishop of Northern Illinois Conference of the United Methodist Church, has worked ecumenically throughout her ministry in Cleveland, Ohio, Minnesota and now Northern Illinois. She is a member of the World Council of Churches Central Committee comprised of 150 persons from around the world.
Forum: "Has Christ Been Divided? Emerging New Ecumenism: Evangelical Engagement with Catholics and Protestants"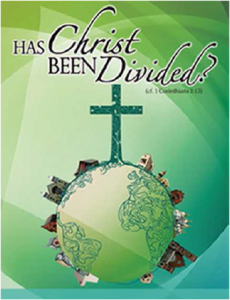 The vision of unity among Christian churches is radically changing in the 21st century. From long fought efforts to find common ground amidst our distinct differences, God is recalling us to the core of Jessus' commission. The One who sent disciples out to bring healing and reconciliation to a hurting world is the One who sends us today. This commission, this mission, is summons and center for all people of the Word. Mission calls us to see all people as children of God and to develop caring relationship with each of them. We are sent out to serve.
Presenter: Rev. Dr. John H. Armstrong is the president and founder of ACT 3 Network, a mission for empowering leaders and churches for unity in Christ's mission. He is a minister of Word and Sacrament in the Reformed Church in America and an adjunct professor of mission at Wheaton College Graduate School. John is the author/editor of 13 books, including the much discussed book, Your Church Is Too Small: Why Unity in Christ's Mission Is Vital to the Future of the Church (Zondervan, 2010) and The Unity Factor: One Lord, One Church, One Mission (2011). John is deeply engaged in public and private ecumenical activity for the purpose of helping the
church pursue the mission of Jesus. He received the 2014 Luminosa Award for Unity from the Focolare Movement. ACT 3 sponsored a conversation with Chicago's Francis Cardinal George in a dialogue on unity held at Wheaton College and has other unity forums planned for 2015. He serves in a number of mission partnerships including the role of Lausanne Committee Liaison to Roman Catholic-Evangelical Conversation. His primary goal is to mentor young leaders, both Catholic and Protestant. Information about the ACT 3 Network is at www.act3network.com.
His blogs are published at www.johnharmstrong.com.
Register online using the events tab on our website, e-mail Laurie (
email hidden; JavaScript is required

), or text to 217-522-7099 to request that a registration form be e-mailed to you. $10 for students, $35 for all others, includes breakfast, lunch and materials
Questions? Contact Laurie Vial, Executive Director, at
email hidden; JavaScript is required

or at 217-522-7099
Lodging: Rooms are blocked at Wingate by Wyndham, 516 W. Marketview Dr., Champaign, IL (217-355-5566) at $85 plus tax. Rooms must be booked prior to Sept. 11 to assure the discounted rate.